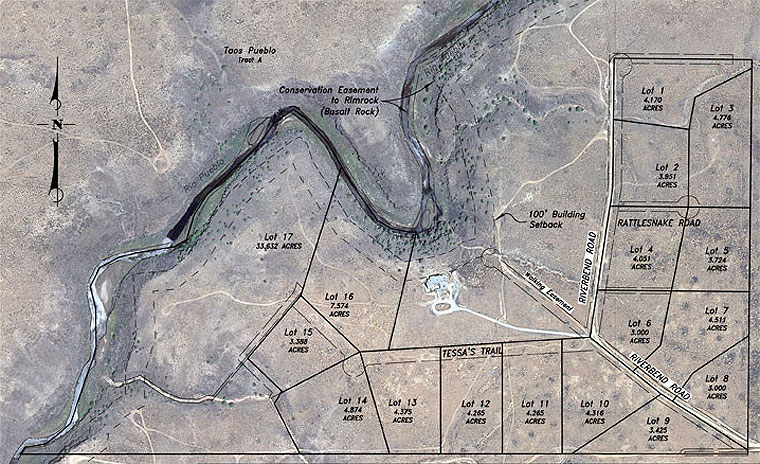 About the Lots
The sixteen Lots within the Riverbend Subdivision are now available as a wholesale offering. The Riverbend Subdivision is owned by Riverbend LLC. Ted Terry is the Listing Broker and Managing member of Riverbend LLC. Riverbend LLC will cooperate with any licensed New Mexico real estate broker or any foreign broker.
Lot Descriptions and Building Envelopes
The building envelopes are indicated with longer dashed lines. The shorter dashed lines just inside the lot lines are utility easements. The Lot lines are hilited when you click on the Lot topo and building envelope windows
Lot 1- The most northerly lot has a meandering arroyo as its western boundary. Hillside privacy from the tract to the North.
4.170 acres Lot topo and building envelope
Lot 2- This Lot offers a choice of access from either Riverbend Road or Rattlesnake Road. The North half of the Lot slopes gently to the arroyo which is the northern boundary, 3.951 acres Lot topo and building envelope
Lot 3- This Lot offers many level buiding sites and the arroyo wraps around the northern boundary. Private with all around views. 4.776 acres Lot topo and building envelope
Lot 4- The Lot is one big level building site. There will be very little site grading to be done, except for your building pad and driveway. Choice of access from Riverbend Road or Rattlesnake Road. 4.051 acres Lot topo and building envelope
Lot 5- Only Lots 7,8 and 9 offer higher topography building sites than this excellent building site. Many level building opportunities. 3.724 acres Lot topo and building envelope
Lot 6- Two building envelopes reflect the drainage through the Lot. Across Riverbend Road from the Fire Tank Site. The walking access to the river is just across the street. 3.00 acres Lot topo and building envelope
Lot 7 - This Lot has the single highest building site of the entire project. There is a minor drainage channel that must be addressed for driveway purposes to access the "primo" building spot. 4.511 acres Lot topo and building envelope
Lot 8 - One of the two entrance lots of the Subdivision. Lots 7, 8 and 9 are the highest lots in the Subdivision (6728 to 6752 feet in elevation.)3.00 acres Lot topo and building envelope
Lot 9- Another high elevation building opportunity. There is an easement on the southern boundary of the Lot but the easement doesn't affect the preferred building site at all. 3.425 acres Lot topo and building envelope
Lot 10- This Lot is the beginning of the overall slope west towards the Rio Pueblo. The buried Fire Tank is strategically located on this Lot. Corner lot with a choice of access from Riverbend Road or Tessa's Trail The walking access to the river is just across the street. 4.316 acres Lot topo and building envelope
Lot 11- This Lot has a beautiful building spot just off of Tessa's Trail. Killer views to the south and west offer a challenge. Do you configure your main viewshed to the SW or to the "Mountain" ? 4.265 acres Lot topo and building envelope
Lot 12- Very similar to Lot 11. Almost rectangular in shape for those among us who crave regularity. The Subdivision test well is located on this Lot 4.265 acres Lot topo and building envelope
Lot 13- Absolutely georgous building Lot. Again great views to the South and West and all around. 4.375 acres Lot topo and building envelope
Lot 14- This Lot is highly influenced by the major southern drainage that flows all the way to the Rio Pueblo. The western lot line is the begining of that dramatic arroyo, but here it is a nearly flat streambed. This Lot will be close to the downstream access to the riparian area of the Rio Pueblo. 4.874 acres Lot topo and building envelope
Lot 15- This lot will have a lot line adjustment on it's southern third to eliminate the access easement for a portion of Lot 17 (retained by Ted Terry). There are great level building sites near Tessa's Trail. This Lot has a cul de sac for the end of Tessa's Trail for this phase of the project. The bottom of the lot falls steeply towards the box cut gorge of the arroyo. Close to the downstream access to the Conservation Easement property. Originally 4.351 acres Lot topo and building envelope
Lot 16- This Lot is the Crown Jewel of the 16 Lots that are for sale. River frontage and two platted archeological sites. Many possible building sites on this. Future lots to the West and South (Lot 17, retained by Ted Terry) will all have river frontage ensuring that this portion of Subdivision will have increasing investment potential over time. 7.254 acres topo and building envelope
Property developed by Riverbend LLC
Ted Terry, owner/broker
575.770.0655
7276 State Hwy 518, Ranchos de Taos, NM 87557
575.751.0013